The Cost of Elder Care: Options at a Glance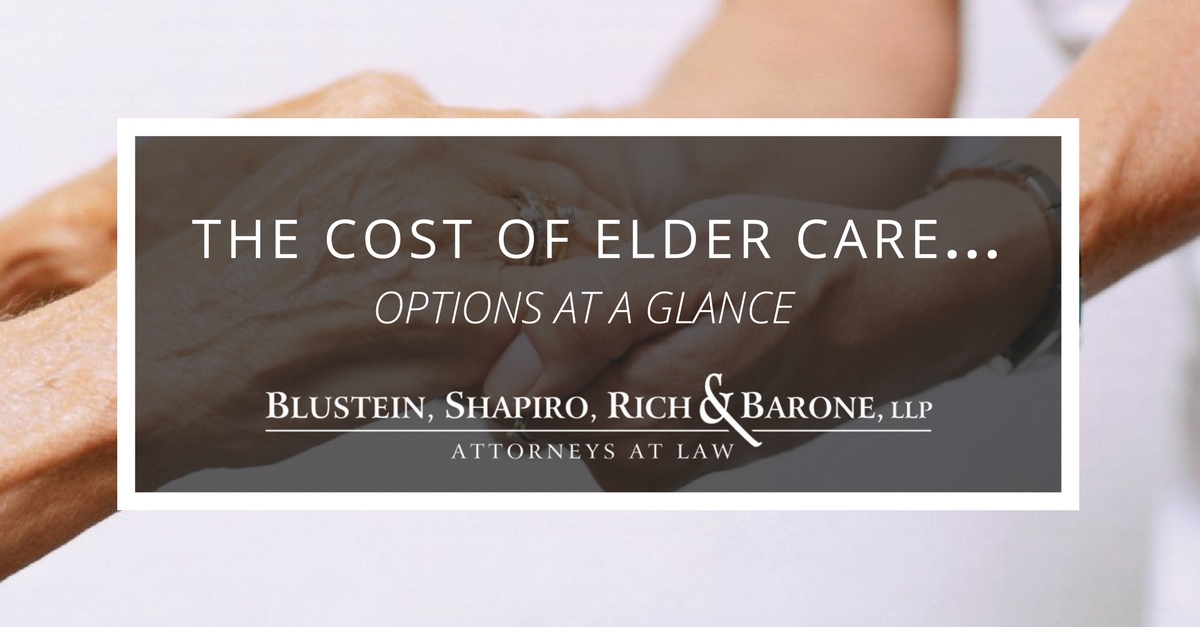 Proactively addressing the care you may require as you age is critically important. The results of failing to plan cannot only be financially devastating and result in a lack of proper day-to-day care for yourself, it can also cause significant stress on your family and even separation from your spouse. We all know someone who has had to go to a nursing home, very likely with great reluctance. The incredible expense – averaging over $12,000 per month in the Hudson Valley – only makes the idea more devastating!
It is important to be comfortable with the idea that there is some expense involved in preventing the need for high-level care and its high cost. Working with an experienced and client-focused elder law attorney to ensure that your assets are protected and that you are managing that cost will provide comfort.
1. AGING IN PLACE
Likelihood without planning: Low
Cost: Low
Most people assume that they'll be able to stay in their house for the rest of their lives, all without any planning. As those of us who have family and friends who have required nursing care can attest, that often is not the case.
There are options that can help you remain at home as long as possible. The most important thing to do is to seek out in-home care before you have high-level care needs. All too often, someone who could use some low-level care (e.g., daytime companionship or meal preparation) doesn't bother to seek it out because they are worried about loss of independence and/or cost.
However, the cost for care in the home is relatively low, especially if you address it early enough. And for increased levels of care, Medicaid coverage is available as long as you have properly protected your assets.
All too often, someone will pass on the low level of care at home, and then have an accident or mental decline that could have been prevented. Once there is such an accident or decline, the level of care required goes up, as does the cost.
2. ASSISTED LIVING
Likelihood without planning: Moderate
Cost: Moderate to High
Many people recognize that staying in their homes forever may not be realistic. Whatever their circumstance, they prefer the idea of living in a community with other seniors where they don't have to worry about maintaining the house and the yard, preparing meals, or managing their medications, and where there is entertainment and the opportunity for a social life.
Assisted living facilities allow seniors to live independently, while freeing them from those obligations. Assisted living facilities also serve a range of care levels, such as simple meal preparation and medication management, up to higher-level care for residents who have some decline in mental capacity.
However, most do not have the highest level of care available. If you need 24-hour nursing care, you will need to leave the assisted living facility and go to a nursing home.
The cost of an assisted living facility is moderate to high, depending on the level of care you require. It typically ranges from $2,000 to $7,000 per month. In certain assisted living facilities, Medicaid can also cover a portion of this (again, if you have properly protected your assets).
3. NURSING HOMES
Likelihood without planning: High
Cost: High
Many people who develop significant mental or physical infirmity during their later years require round-the-clock care. At that stage, home care is almost never a feasible option, and assisted living facilities do not provide that level of care. That leaves a nursing home as the only viable option.
As mentioned before, the average cost of a nursing home in the Hudson Valley is over $12,000 per month. The only options to pay for it are:
1. Out of pocket (spend down all your savings and possibly the equity in your house);
2. Long-term care insurance (a valuable tool if you have it, but many people don't); or
3. Medicaid (notice that Medicare is not listed, as it does not pay for a long-term stay in a nursing home).
As most of us don't want to spend down all our assets, and many of us don't have long-term care insurance, Medicaid is the preferred way to pay. However, you have to financially qualify to get Medicaid coverage.
If you haven't properly protected your assets proactively (at least five  years prior to needing the care), you will need to spend down a significant amount of your assets before Medicaid will cover the nursing home costs. Still, even if you haven't done any planning, an experienced elder law attorney can help you save much of your money – usually at least half.
However, with proactive planning, you can protect a strong majority of your assets from being spent down.
4. CONTINUING CARE RETIREMENT COMMUNITIES (CCRCS)
Likelihood without planning: None
Cost: Moderate
Continuing Care Retirement Communities are all-inclusive living environments that offer all levels of care in one place. There are independent apartments that range in size and amenities, assisted living services if needed or desired, and on-site, nursing home level care. CCRCs also typically have a broad range of amenities, like varied dining options, entertainment and activities, and transportation to local shopping and dining areas.
One of the primary benefits of a CCRC is certainty. Your residence agreement with the CCRC provides that you will stay on site for as long as you want, regardless of the level of care you require. This is particularly valuable to married couples. None of the other options – home care, assisted living, or nursing homes – have a method to ensure that spouses stay together for, as they say in their wedding vows, "as long as they both shall live." With non-CCRC options, if one spouse requires a higher level of care than the other, keeping them in the same living arrangement is very difficult. Worse, there is no limit on the cost. It is often an unrealistic burden on the other spouse, which in turn can often lead to the "well" spouse needing more care sooner.
CCRCs have differing cost structures, but typically there is a down payment, of which a large portion is often refundable. Then there is a set monthly rate that rarely, if ever, changes.
Without planning, you are very likely to require a higher level of care at a much higher cost. At the same time, the likelihood of you staying where you want with your spouse on your own terms will dramatically decline. However, proper planning exponentially increases the likelihood of living and doing what you want with your spouse. There are professionals whose job it is to make sure that happens.