Thinking of Sitting for the CELA Exam? What You May Want to Know Before Taking the Plunge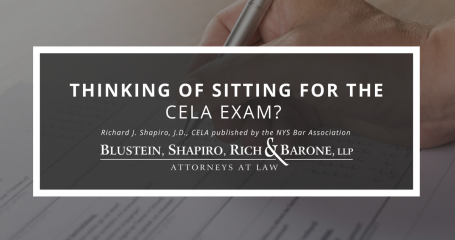 Read the article in the NYS Bar Association's Elder and Special Needs Journal here.
About three years ago I first considered taking the CELA exam administered by the National Elder Law Foundation (NELF). By then I had been practicing law for 25 years, with a primary concentration in elder law and estate planning for over 15 years. I realized that when I was searching for an elder law attorney in other states or communities I would typically seek an attorney with the CELA designation or a state-specific certification in states that offer that option, and adding the CELA credential to my name would enhance my credibility to both colleagues and the public. WhileIknowmany outstanding elder law attorneys who are not CELAs, I recognized that the CELA designation was meaningful.
When I first looked into the CELA process I learned that one requirement was for applicants to submit a "matrix" of 60 elder law-related matters over a three-year period preceding the date of application. The reported matters must include 40 matters within five "core" areas: health and personal care planning (i.e., medical directives,powers of attorney, and general counseling of older persons and persons with special needs);premortem legal planning(i.e.,wills and trusts, lifetime and testamentary gifts, and the associated income, estate, generation-skipping, and gift tax implications); fiduciary representation; legal capacity planning; and public benefits advice (i.e., Medicare, Medicaid.VA benefits, and Social Security). Besides the core areas, the matrix must incorporate 10″non-core" areas that include special needs counseling, advice on insurance matters, resident rights advocacy, housing counseling, employment and retirement advice, counseling regarding age, disability or housing discrimination, and litigation and administration advocacy. The remaining 10 matters can cover any of the previously described subject areas. The rules allow for a single client matter to cover multiple categories if the case so lends itself.
Dreading the work and time involved to go through my cases and complete the matrix, I nixed moving ahead with the process.
Fast-forward to the spring of 2017 when I was chatting with a colleague in NewJersey who had become a CELAa.few years prior, She convinced me of the value of the CELA designation, and with her encouragement I again looked into the CELA qualification process. By happenstance, this past May I stumbled across a post by Arizona CELA Robert Fleming in the community forum on theNAELAwebsitepromotinga CELA review course being offered to prepare for the September 2017 exam. To learn more, I signed up for a webinar to be held a few days later.
The first of what would be nine webinar classes was held in late May. Fleming and Rebecca Morgan,a prominent elder law professor at Stetson Law School, described the CELA qualification criteria and what their course was intended to cover. Among the requirements · mentioned was that applicants must have "substantial involvement" in elder law that requires, at minimum, an average of 16 hours a week in the associated practice areas for the three year period preceding the application. Applicants must also have completed at least 45 hours of continuing legal education in the same three-year period, and must obtain references from at least five attorneys familiar with the applicant's competence and qualifications in elder law. Of those five attorneys, at least three must have themselves devoted at least 800 hours practicing elder law over the preceding three years.
Fleming and Morgan next described the CELA exam itself. The test is a5½-hour marathon, with three hours in the morning and 2 ½hours after an hour lunch break. The test totals 300 points, with 50 two-point multiple choice questions, and 200 points for essays ranging from IO-pointers to lengthier 40-point essays. Two-thirds of the points must cover core areas, while the remaining one-third covers non-core areas. A score of 210 (or 70 percent) is required to pass, and the exam is not curved.
I figured scoring 70 percent was not too daunting a threshold, as I have been actively practicing elder law for almost I8 years and have always been a strong test taker. But Fleming and Morgan then reviewed the recent historical passage rates, ranging from a low of 30 percent for the March 2017 exam,to a high of 75 percent for the September 2016 exam. The latter exam was an outlier, as the average passage rate is in the 35-40 percent range. Those numbers caught my attention.
Fleming and Morgan next recommended resources to prepare for the exam. Besides their course, educational options included NAELA's advanced elder law review course, as well as Masters in Elder Law programs offered at Stetson, Western New England, and Seattle University Law Schools. The recommended texts included David M. English, John J. Regan and Rebecca C. Morgan, Tax, Estate & Financial Planning for the Elderly (Matthew Bender); Robert B. Fleming and Lisa Nachmias Davis, Elder Law Answer Book (Aspen); Lawrence Frolik and Richard Kaplan, Elder Law in a Nutshell, 6th Ed. (West Academic); and Ralph C. Brashier, Mastering Elder Law (Carolina Academic Press).
I already owned the Elder Law Answer Book, which is a lengthy treatise.After research I also purchased Mastering Elder Law, which provided another perspective on the relevant topics in a more portable paperback format. During the initial webinar Fleming and Morgan emphasized the importance of beginning to study immediately for the September exam, which was still three-and a-half months off. While the test date still seemed distant, their recommendation was sound given the voluminous amount of material covered on the exam.
Also emphasized was the need to master the ethics rules involved in an elder law and special needs practice. Among the study materials provided to course participants was the NAELAA Aspirational Standards (2nd Edition 2017) and the ACTEC Commentaries on the Model Rules of Professional Conduct (5th Edition 2016). Fleming urged prospective test takers to read these materials at least twice, and I am glad I took his recommendation to heart, as ethics issues were integrated throughout the exam.
Each subsequent webinar focused on one or more of the 12 elder law modules comprising the exam. From the outset I decided the best approach was to go back to the ways from my law school days 30 years previous and prepare an outline from the relevant sections of the Elder Law Answer Book. The instructors provided an exam study guide referencing the chapters in that book that corresponded to the categories to be tested. Beginning right after Memorial Day I began constructing my outline, starting with health and personal care planning, and concluding with a section on ethics. Preparing the outline was painstaking. Initially I worked on the outline at my office between appointments, phone calls, e-mails, document drafting and other parts of my normal office routine. By early August I was pushing to complete the outline, so I came to the office on weekends to work undisturbed. Finally around the third week of August I completed the outline, which had ballooned to almost 89 single-spaced pages. Although during the process I often questioned my sanity for creating such a detailed outline, in the end the act of writing down the key material was essential in helping me get a handle on the information.
After the second review session we were provided the first of three 90-minute practice exams. The first exam consisted of 12 multiple choice questions and three essays-a 10-point essay, a second 20-point essay, and finally a 30-point essay. I parked myself in a conference room, set a timer and took the test on my laptop. Because I was still in the early stages of the review, several multiple choice questions proved daunting, but I thought I had handled the essays well. However, when I received my "graded" test, I was dismayed that I answered correctly only six of the 12 multiple choice questions, and my essay scores were barely over 50 percent. It was a discouraging wake-up call.
A challenge is that the exam focuses on "national" practice, which in many instances differs – often significantly – from what we routinely handle in a New York elder law practice. In most of the country, for example, spousal refusal is not a recognized technique for spousal Medicaid planning, so I had to brush up on planning techniques not typically used in my practice.
In mid-August I set aside a Saturday morning to spend the time to complete the "long-form" application that included completing the dreaded case grid.I created a spreadsheet of my applicable matters from our firm's practice management program and filled in the grid over a period of a few hours. Completing that long-form application itself seemed like half the battle.
Grinding through the passing days and weeks I sensed that the studying was paying off. I performed better on the second practice test taken in mid-July, and better still on the final practice test at the end of August. But on each exam I found several lost opportunities for points, as I failed to take sufficient time to create a brief outline and spot the key issues. I recognized on the actual exam every point would be precious and that I would need to avoid the temptation to jump right into my answer but instead would need to spend at least a few minutes creating a brief outline to identify each key issue. Achieving the 70 percent score still seemed like a daunting objective.
With the September 15 test date fast approaching, my studying intensified. I spent most of Labor Day weekend and the following weekend in the office reviewing my outline and other study materials. I also set aside blocks of time in my weekly schedule to shut myself in a conference room and study with limited distraction. My staff and colleagues were advised that I was to be disturbed only if necessary, and as grumpy as I was, no one in the office was in the mood to bother me.
I took off the entire day before the exam and hunkered down in my home office with my trusty dog Midnight by my side. For a good 11 hours I reread my outline, reviewed the practice exams and brushed upon the NAELA Aspirational Standards. Bleary-eyed, I shut my notebook around 10:30 that night and headed to bed.
After a sleepless night, the next morning I headed down to my colleague Irina Shea's office in Ramsey, New Jersey where the exam was to be administered. The exam must be taken at the office of an existing CELA, and Irina graciously agreed to serve as my host and proctor. Irina set me up in a conference room and I got my laptop ready to go. While the exam can be handwritten, given that all my work these days is on a keyboard it only made sense to use my computer for the exam. Earlier in the week I had downloaded the Exam Soft program and had tested the system to make sure I knew how it worked. After Irina read me the instructions she left the room and at 9:00 a.m. It took a deep breath and got started.
The first part of the exam consisted of 25 multiple choice questions. About 15 of the questions were straightforward, but the other 10 seemed to have at least two equally correct answers. While the rule of thumb was to spend about two minutes on each multiple choice question, I spent no more than 25 minutes on the entire section. I figured I would have a few minutes after completing the essays to review the multiple choice questions. That was to prove a pipe dream, as I used every second of my allotted time to complete the morning essay questions.
I do not remember the specifics of the questions, but as I recall the essays included a traditional estate planning scenario that incorporated sub-questions regarding tax planning issues and asset protection concerns for the heirs. Another question focused on the hypothetical client's capacity and ethical concerns regarding her attorney's later filing of a guardianship proceeding against his client. Yet another question centered on Medicaid planning strategies for a married couple.
What became immediately apparent as I delved into the essays was how virtually every question required analysis of one or more ethical issues. I am glad my course instructors urged us to spend time reviewing the Model Rules and the NAELA Aspirational Standards, and I would urge anyone planning on taking the exam to do the same.
While on the practice exams I dove right into each essay answer without creating an outline, on the actual test I spent a few moments to jot down the key issues in each question. As my instructors repeatedly advised us, I did my best to answer the question actually asked; and not what I thought the question should be.
One nerve-wracking moment occurred when, as I was completing one essay, my screen went blank and I thought I lost my entire answer. Hearing my panic, Irina ran into the room. Calmly she helped me figure out that I had accidentally hit the "next question" arrow, and I was able to then get back to the prior screen and complete my question.
As the noon hour approached I saw I was running short on time and raced to complete the final morning essay. I finished just in time and exhaustedly hit the "upload" button to ensure my morning portion was sent to the testing center. I then had an hour lunch break and spent a few minutes outside on what was a beautiful late summer day. I had packed a lunch but was such a jumble of nerves and adrenaline I had no real appetite and just nibbled at my food.
A few minutes before 1 p.m. I headed back to the conference room. Irina read the afternoon session instructions and then I plowed into the remainder of the exam. The first part again consisted of the multiple choice section, and to my recollection there were 20 questions rather than the anticipated 25 questions. As with the morning session I breezed through the multiple choice questions and moved onto the afternoon essays. As time raced ahead I again was concerned that I was falling behind and picked up the pace. The last question was a 10 or 15-point essay and I had left myself with less than 10 minutes. I frantically typed away, and with eight seconds left before the 3:30 deadline I hit the upload button-I was done!
Drained, I thanked Irina for getting me through the day and headed home. I thought I handled the exam well, but based on the results of the practice exams and the historically low pass rate I still had my doubts I would meet the 70 percent threshold. Regardless, I was thrilled to have my "normal" life back, able to again enjoy my free time and focus on my family and the regular routine of my practice.
We were told it would take at least a month before the results were announced, and as the weeks passed my anxiety mounted. In my mind I wrestled with the question: "If I do not pass will I be willing to go through this again?" Butin late October I received the phone call from NELF headquarters that I had passed the exam. Consistent with most recent exams, I was told that the pass rate for the September 2017 exam was just 36 percent.
While it has been almost 30 years since I sat for the Bar exam, in my estimation the CELA exam is a more difficult test, as the depth of knowledge expected of the test-takers is far higher than on the Bar exam. For those considering taking the exam, I hope my experience described in this article provides guidance on the steps you should consider taking to prepare for that endeavor. I am grateful that I made it through the process and will not for a moment take for granted what it took to achieve my goal.
Richard J. Shapiro is Head Partner in the Elder Law Department at Blustein, Shapiro, Rich & Barone, LLP, with offices in Goshen, Warwick, Poughkeepsie and Monticello. He concentrates his practice in estate and business planning, Medicaid planning, special needs planning, and estate administration. He can be reached at rshapiro@mid-hudsonlaw.com.