Commercial Litigation and Appeals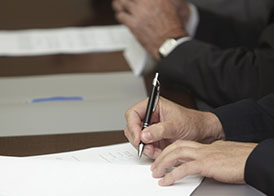 As one of the premier commercial litigation law firms in the Hudson Valley, we at Blustein, Shapiro, Rich & Barone, LLP provide uncompromising professional legal representation to established businesses and professionals. We have partners with over 20 years of litigation experience in representing a diverse group of clients with numerous complex commercial matters.
In both state and federal courts, our experienced litigation attorneys provide clients with the representation they need and deserve to protect their commercial and private interests.
Our established commercial litigation and appeals practice is capable of navigating obstacles faced in contract disputes, corporate partnership disputes, collections, estate litigation, real estate disputes, and land use disputes.
Over the years, our Goshen-based commercial litigators and appellate lawyers have earned the respect of the legal community throughout the Hudson Valley. We are proud of the reputation our hard work has earned for our firm, including the numerous referrals we receive from other attorneys. They all have come to admire the experienced, hardworking, and knowledgeable approach our attorneys have taken with any case they litigate.
It is our goal to demonstrate how our commitment will result in a favorable resolution of your legal concern.
In every type of commercial litigation and appeal we agree to take on, we understand the complex nature of the interests at stake. We understand that every case is unique, with a multitude of intricate issues that must be addressed. When preparing cases, we handle them as if they are going to trial so that if and when we are involved in settlement negotiations, we can proceed form a position of strength.
We recognize that every case we handle is the most important case for our clients, regardless of the complexity or economic value. If you are in need of professional and insightful legal representation with your commercial litigation or appeal, contact Blustein, Shapiro, Rich & Barone, LLP today.