Secure Your Legacy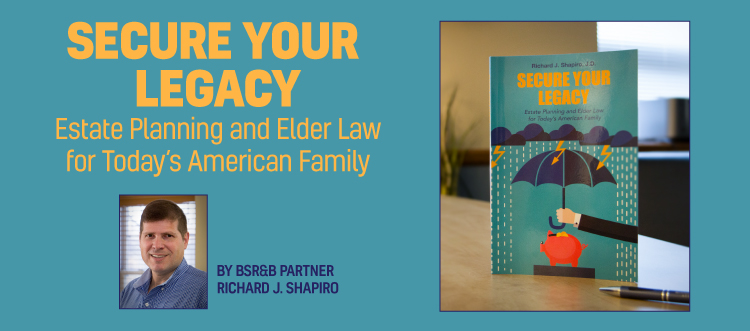 Imagine building a new home without a set of blueprints—sounds absurd, doesn't it?
It's no different than creating an estate plan without establishing planning goals. Still, far too often people engage in estate planning without thinking about what they want to accomplish.
In Secure Your Legacy, Blustein, Shapiro, Rich & Barone partner Richard J. Shapiro tackles the daunting aspects of estate planning and elder law. He answers questions such as:
How do you determine if you need a will or a trust (or both)?
What's the difference between a revocable and irrevocable trust?
How do you protect assets if you need long-term care?
How do you reduce your exposure to estate taxes?
Rich also shares tips on planning for a child with special needs, transferring a business, and ensuring a beloved pet is taken care of if you pass away or become incapacitated. In addition, he explains why you should never create an estate plan online.
Filled with real-world examples, this guide gives you the critical information you need to work with an attorney to create an estate plan that protects you and your loved ones.
"I was honestly very pleasantly surprised at how helpful this book was, particularly because I thought my wife and I were all set with our end-of-life paperwork. There were so many things we hadn't considered that I know now we definitely need to update/expand our plans."
ABOUT THE AUTHOR
Richard J. Shapiro, J.D., has assisted hundreds of clients in creating custom-tailored estate and elder law plans. A graduate of Cornell University and the University of Pennsylvania Law School, he is a partner with the law firm of Blustein, Shapiro, Rich & Barone, LLP, located in New York's Hudson Valley. He also teaches numerous continuing education programs for attorneys and other professionals. He lives with his wife, two children, and dog in Goshen, N.Y.
PURCHASE SECURE YOUR LEGACY
Get started on creating an optimized estate plan for your specific needs. Secure Your Legacy is now available for purchase in both paperback and e-format from Barnes & Noble and Amazon by clicking on the buttons below.
SHARE YOUR THOUGHTS…
Did you enjoy Secure Your Legacy?
Reviews are so important to authors. Please take a minute to leave a review on BarnesandNoble.com or Amazon.com.
Here's how…
(applicable to both barnesandnoble.com and amazon.com)
1. Go to the product detail page on Amazon or Barnes & Noble.
2. Click "Write a Review" in the Customer Reviews section.
3. Sign in or create an account.
4. Leave your review.
5. Click Submit.